I'm done and ready to go, plus we got 10" of snow higher up last night (18" in the last 2 days)! I still haven't resolved what to do with the nose cable and the electrical harness which parallels the bungee. There has to be slack in both to have the needed length for the most downward attitude, I can't secure it to the bungee of course because it stretches. I guess for the first flight I'll let them hang out in the breeze, as long as they don't slap against my boot cowl. Possibly a light ski mounted bungee would keep the slack out while allowing it all still to work, I'll think of something.
I'm happy with the ground clearance, my main concern, especially once I raise the tail, I'll be easily able to handle my gravel driveway/ramp and any dirt and grass strips. I did have to smooth out my hanger slab approach with some scrap plywood, it was too high and as the lowest point is the TE of the ski, pulling it back in to the hanger was a problem until the plywood.
It was too windy, plus cross, to fly this afternoon, but I got to pull it out of the hanger and taxi up to my staging area, no problemo in what is about worse case scenario with soft ground, gravel, and snow. In the winter with the ground frozen it'll be even better.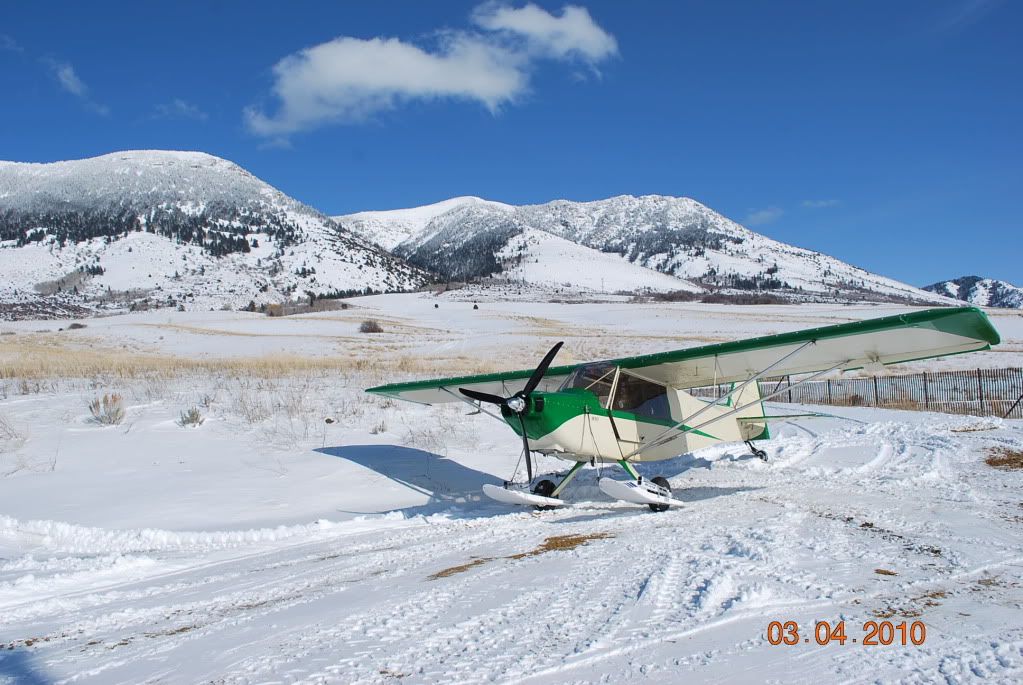 This shows my standoff for the front cable/bungee attach point, also the wire harness going through a grommet in the cowl. The cabling is secured with a sleeve of tubing and a couple hose clamps. It looks like I'll be able yank off the skis, standoff, and wiring in about 10 minutes. Flush plugs will plug the holes and be low drag and pretty unnoticeable, good enough for me anyway.
I plan to make the first takeoff on the wheels, fly to an airport, and then do some testing. My main concern is the bungee tension and AOA of the ski (which 5 degrees up relative to the airplane). Too low of ski angle in flight and too wimpy of a bungee could result in the ski going divergent, for the first flight off my strip (where I'm committed on takeoff) I plan to safety the bungee with rope, then at the airport, where I'll have the room to see how it all works, I'll do some very low level testing. The first snow landing is the big deal, I'm getting excited!